Adam Tuttle has written a very informative post explaining how you can find the database type of the current Mango install when developing plugins. Knowing that would be important if your plugin wants to store data in the database or retrieve data stored by Mango itself.
Adam Tuttle has updated two of his plugins to fix some bugs and add support for ColdFusion 7. If you couldn't get the Related Entries plugin to work, I would give this new version a try.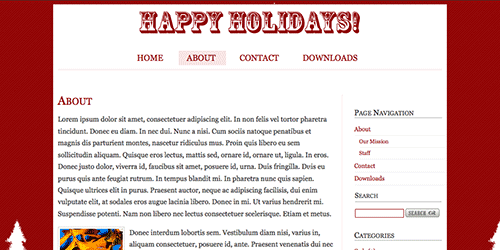 The holidays are coming! Why not celebrate them by changing your blog's theme to a Christmas design? Even if you are not into the holiday season, the theme is very nice. Thanks to MangoWear for providing these free themes.

Women's Empowerment website was created by Mark Aplet as a donation to the community. He used Mango to manage the complete website, from the News items, to the Hot Topics and My Story sections and all the pages. He also uses some plugins like the Flickr plugin to show pictures.
He says:
Using software like Mango Blog, I was able to quickly develop a simple website and push the limits of what I know about the software to do more than it was intended.

It was a fun challenge to undertake. Especially doing the design and code in just over a week. A true testament to the speed and flexibility of a great application like Mango Blog.
I personally think that not only the website looks great, but it is very nice to see people donating their services to the community.