Russell Brown has made available a modified Nautica 05 theme. He made a couple of changes to the skin to make it more compact and made other enhancements. Read more and download from Russell's blog.
Russell Brown has created a plugin called Feed Ping to automatically ping your favorite blog and news aggregators when you create a post. This notifies the aggregators to retrieve the new content so that it will immediately appear in their site.
This is a feature that several people have asked for, so I am glad to see people contributing plugins that check items off my to-do list. :)
More information at Russell's website. Thank you, Russell!
I have decided to remove Mango's beta status and call it version 1.0. Besides bug fixes, these are the new features:
Added user roles and permissions
New file explorer
Upgraded TinyMCE editor
New File explorer plugin for TinyMCE editor
Ability to create custom post and page edit panels
Added hooks to let plugin developers add Pods to the admin Dashboard
Added a simple Statistic pod for the Dashboard
Users can now be de-activated
The most important feature added is the ability to have user roles and permissions. For example, you are the administrator and you edit the blog settings, skin, etc, but you can give access to the admin to an author so that he or she creates posts, but can't change any of the blog settings.
Enjoy!
Important: if you are upgrading from an older version, read the intructions in the Downloads page.
I found that there were a couple of issues with the newest skin posted, so I decided to push this update. You'll find the download in your Skins/Themes section in your admin.
I also made changes to the style sheet file, so if you had modified it, you'll need to be careful. To avoid this problem in the future, I added a new style sheet called "custom.css" where you can place all your modifications, and if I update the main css in the future, your changes will be safe.
Thanks to the contribution of Nicholas Kwiatkowski, there is now a new skin for download: No Limits.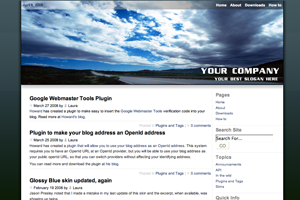 Thank you, Nick!