Adam Tuttle (the "king of Mango plugins"), has created a plugin that shows related entries at the bottom of your posts. You choose the entries that relate to the post form the admin while writing the post.
This is a very cool plugin and something I always wanted for myself. Thank Adam for creating this plugin!
Read more and download from Adam's blog.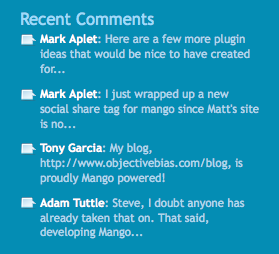 Mango release 1.2 included a new set of tags to show the latest comments made to the blog, to any entry. The original Glossy Blue theme had a list of comments at the bottom of the page. I removed that from Mango's version because Mango didn't have that feature. Since that feature was added, I updated Glossy Blue to be truer to its original version.
To download the update, you need to login to your administration, go to Settings > Themes, and there you should see a yellow box indicating that there is an update for that theme. It will also show you a link to the download. You can then upload the files to your server (only changed files are included in the download).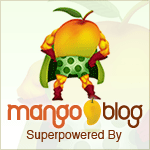 Thanks to Mark Aplet, Mango has now a set of badges that you can place in your blog.
So what are you waiting for? Show your pride :)
Well, technically it's 1.2.2. But I call this release the "less annoyances" release. I haven't removed all of them, but this release should make your Mango experience happier.
Easier updates
The biggest improvement in this release is "automatic updates". Automatic in the sense that you won't have to do a lot of work to get your upgrades from now on. Just click on the "Install updates" button, and everything should be automatically done by Mango itself. You will see this feature working fully in the next update.
Less annoying cache
Was the never-clearing-cache getting on your nerves? not anymore! This version introduces a new way of looking at things, so the cache should be much more responsive. That also affects changes of themes, changes in plugins, and changes done from the Pod Manager.
Many more things
There are other smaller additions and changes such as being able to add categories while creating a post, being able to delete categories, not allowing a commenter to write the same comment twice to the same post (to avoid refresh/resubmit comment), showing friendlier messages when a plugin is activated, and more.
So what are you waiting for? Download this update!
Thanks to Brian Rinaldi, Dan Short and Andrew Powell for submiting fixes.
Stephen Moretti has created a plugin that will let you manage TinyMCE html editor preferences. TinyMCE is the editor used in the administration for posts and pages editing.
You can read more at Stephen's post.