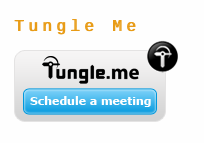 Arjan Muthert has created a plugin that adds a tungle.me widget in the sidebar. With the tungle.me widget vistors can schedule a meeting with the blog owner.
URL to download is: http://emundivagant.com/downloads/tungleMe.zip

Pritesh Patel has created a plugin that adds a menu item to the admin to let you easily manage your blog comments. This comes in handy when you need to clear up spam or just review all your latest user comments.
The URL to download is: https://github.com/downloads/thecfguy/RecentComments/recentcomments.zip
Russ Michaels wrote a blog post explaining some tweaks he needed to do in order for the SEO urls to run under Tomcat.
Read the whole post at Russ' blog.
Brent Jones has released an enhancement to the Memento plugin called MementoPlus.
read more
I'll be giving an online presentation on how to get started with Mango. It will mostly be an introduction to Mango, how to get started, and some of its capabilities.
I hope you can join me on March 14, 8AM PST. Register here.